FARM OWNERS, FARM EMPLOYEES & CUSTOM HAULERS: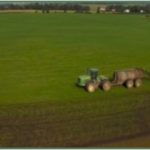 This interactive presentation with Karl Czymmek, Cornell Pro-Dairy, is important for the person making the day to day manure spreading decisions, as well as the staff that are in the field spreading.  All CAFO farms are required to attend this training once during the permit term.  Large CAFOs must have 2 employees trained and medium CAFOs must have 1 employee trained. 
Minimize the farm's environmental risk
Discuss spreading challenges 2017-2018
Dealing with extreme weather conditions, shallow soils, and karst topography
 There is NO COST for this training and NO LIMIT for each farm.  Farm name and the number of people attending is needed when you register. Call (315) 782-2749 by March 23.